Catch our summer discount 50% OFF! Join NOW!
September 10, 2009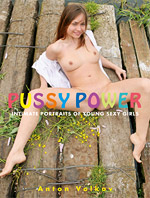 If you can't get enough of material from this site or want to have a hard cover version of my photography you can now order my first fine art photography book named "Pussy Power: Intimate Portraits of Young Sexy Girls" issued in September of 2008 with Edition Reuss.
The book has format 17 x 24 cm, contains 128 pages with introduction in German, English and French and 121 color photographs. It also has hardcover thread bound with dust jacket.
You can buy it on the following sites:
Worldwide: Edition Reuss
Europe: Hermansky Book
UK: Amazon.com UK
USA: Last Gasp
Germany: Amazon.com Germany