Catch our summer discount 50% OFF! Join NOW!
February 5, 2008
In September of 2007, I returned to Alushta, Crimea to shoot models whom I met in summer - Tati and Olja and try my luck at searching for new ones. The weather was not so warm like in June but pretty good for shooting.
I found a quiet place near Alushta and first brought there Olja then Tati.When I arrived for the shoot with Olja, the rain had started and we hid from it under a roof. Anyway I made some shots with her under the rain. Fortunately the rain passed quickly and we made the rest of the shoot. At that time there were a lot of people despite the bad weather so we had to make our shoot with people watching us. Olja was a little shy about it, but she behaved like a true professional and posed very well.
When I was shooting Tati, the sun was shining but the wind was very strong and cold. People were disturbing us from time to time, and Tati was very natural in her emotions when she saw people watching, during her posing.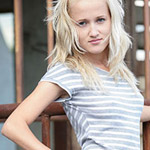 I met another girl during my autumn trip to Crimea - Krissy. My friend, a fellow photographer, introduced her to me. Despite her age (she is only 20), Krissy already has a child. She posed enthusiastically in spite of the rather cold weather.
I did not succeed in finding any new models because the typical vacation season was over, and I hardly ever saw any pretty girls on the streets of Alushta.
I was glad to leave Alushta that time, but I will go back there, many more times, in the future.
December 13, 2007
Yalta is famous for Soviet Union film festival that took place there for many years untill USSR break apart.
My plan was to stay in Yalta for 2 days with only one aim - photographing Olja. So I contacted her as soon as I arrived in Yalta and we made arrangements for our shoot. Olja was at her work when I came to visit her. She was very surprised seeing me there.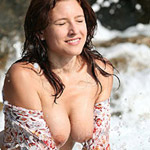 Olja has round shaped body and very well shaped breasts. She asked me which style haircut should she do on her pubis for the shoot and added that, at that moment, she has all natural down there. I answered her that she should leave it as it is.
On the next day we moved to Simeiz - a small town 20 km from Yalta. It is famous for it's nude beach. People from many countries go there for their vacation. The beach is located on huge rocks so it is very hard to get there. Once we arrived, Olja amd I both got naked, went for a quick swim, and started shooting.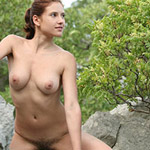 People around were very interested in the process of shooting. One of them came to us during our break. He told us that he came from Novosibirsk city, in Siberia, more than 2000 km away. When we finished our shoot, we relaxed and had a few beers, after climbing the rocks.
When I arrived back to my apartment in Yalta, one very unpleasant surprise was waiting for me - the water, both cold and hot, was cut off for the night, so I could only take a shower in the morning.
The next day, I left for Sevastopol - the city where the Black Sea Russian Naval base is located.