Catch our summer discount 50% OFF! Join NOW!
February 5, 2008
In September of 2007, I returned to Alushta, Crimea to shoot models whom I met in summer - Tati and Olja and try my luck at searching for new ones. The weather was not so warm like in June but pretty good for shooting.
I found a quiet place near Alushta and first brought there Olja then Tati.When I arrived for the shoot with Olja, the rain had started and we hid from it under a roof. Anyway I made some shots with her under the rain. Fortunately the rain passed quickly and we made the rest of the shoot. At that time there were a lot of people despite the bad weather so we had to make our shoot with people watching us. Olja was a little shy about it, but she behaved like a true professional and posed very well.
When I was shooting Tati, the sun was shining but the wind was very strong and cold. People were disturbing us from time to time, and Tati was very natural in her emotions when she saw people watching, during her posing.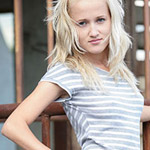 I met another girl during my autumn trip to Crimea - Krissy. My friend, a fellow photographer, introduced her to me. Despite her age (she is only 20), Krissy already has a child. She posed enthusiastically in spite of the rather cold weather.
I did not succeed in finding any new models because the typical vacation season was over, and I hardly ever saw any pretty girls on the streets of Alushta.
I was glad to leave Alushta that time, but I will go back there, many more times, in the future.
November 22, 2007
I had visited Alushta a couple of times before and I liked it. This town is located between the mountains, like many towns and villages on the South Crimean shore. Population of Alushta is rather high so I had a good chance of finding models here and the countryside is very close by so I have easily accessible locations for my shoots.
As soon as I rented an apartment, I went to the beach to search for models. In a day or two I met a very interesting girl - Pamela. When I approached her for the first time, I thought she was not older than 23-25… but as I discovered later Pamela was 32 years old. I was really surprised because she looks much younger than her true age. Pamela has very slim body and thin, graceful features. We spent a lot of time walking and talking… At first, Pamela agreed to pose then she changed her mind and was very uncertain in her intentions… but finally she agreed again and really enjoyed our shoot.
A few days later, I called Ksusha and she came to our shoot with her friend Vika. Ksusha is a very energetic person and has a mischievous sparkle in her eyes. Vika is the opposite to Ksusha - very soft and gentle... even shy. She has perfectly shaped breasts which any hollywood starlet would be jealous of. We traveled to the vineyards, outside Alushta, where I shot both Ksusha and Vika.
For the next few days, my search for new models proved unsuccessful. But, as fate would have it, when I had decided to leave Alushta, I met Tati. Tati lives and works in Crimea. She is a very sociable person. I first saw her from behind. She walked like a goddess. Then, when I came around her and saw her extremely cute face with a scatter of freckles on it, I just had to introduce myself. First Tati took my words with distrust, but while I was talking and showing her my photos she changed her attitude.
After Tati's shoot, I head to Yalta where I could shoot another Crimean model Olja.