Catch our summer discount 50% OFF! Join NOW!
July 16, 2007
The first time I traveled to Crimea was in summer of 2005. I had reserved a room in a hotel in Alushta called "Junost". Alushta is the center on the South Crimean shore. So I didn't worry about food and bed and I could completely concentrate on searching for models.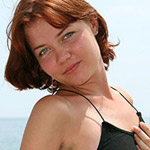 I was learning the town, walking through it, from one end to the other, thanks to it's small size. I walked along the shore, asking girls to pose for me. Some of them were interested in posing but they did not want to pose nude. I took photos of some of these girls right where I met them. I also met in my hotel two guys from Donetzk - a city in the east of Ukraine. They came to Crimea for a vacation, like I did. So when I wasn't searching for girls, we spent time together sunbathing and playing sports.
In Alushta, like in many other towns on the shore, you will find many artists who can paint your portrait with pastel or coal, in a couple of hours, on the street. I was watching the work of many painters. Some were good, some not so good, but a couple of young girl's portraits touched my soul and I decided to make their author's acquaintance. The painter was a middle-aged woman. Her name was Zinaida. We become close very quickly and I visited her almost every day as I was walking by.
In a few days I succeed in my model search. I met a girl named Valya. She was from Simferopol and worked in one of Alushta's cafes during her summer vacation to earn some money. She agreed to pose for me and we arranged a shoot. That very evening, I shot her.
She appeared as a very pretty girl with soft, smooth skin and graceful lines. Later, I even invited her to a shoot in my city and the following spring, I returned to Crimea to shoot her one more time.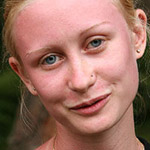 I should tell you about one more girl who posed for me that summer in Alushta. I do not even remember her name. I was sitting on a bench, searching with my eyes for pretty girls, and suddenly saw a blond girl with a huge rucksack, dressed in short black shorts, a black T-shirt and gym-shoes. Her skin was red from sunbathing. I approached her immediately. We started talking. She told me that she was passing through Alushta just for the one day. I proposed to show her a view of Alushta from the mountain and she agreed. I told her that I was an erotic photographer and asked her to pose for me. She said that she didn't have enough time for a proper shoot, but she was interested to pose. She took off her clothes and I took some shots. Then I took her to a bus and we said goodbye to each other. I never saw her again.
I had spent just 10 days in Alushta but I was very sad when I needed to return home and I decided to get back there once more at the very least.